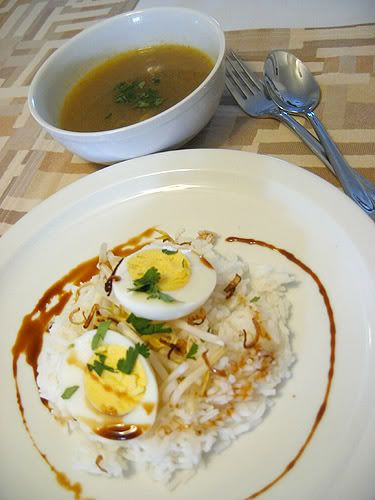 Clear Oriental Chicken Soup (? ..according to the package) with rice, bean sprouts, and egg, then garnished with cilantro, deep fried shallots, and soy sauce.
I used Indofood instant seasoning cus there's no way I'm gonna prepare the spices from scratch. But instead of adding water like the direction on the package suggests, I added chicken stock. On top of that, I seared the chicken, skin side down, in the same pot before I dump everything else to get the yummy fatty flavor in. So, by the end of it, this was a very tasty meal. Besides, with a presentation like that, who doesn't wanna try, right? But then Sean came over, checked it out, commented, "That looks very nice, sweetie.." then proceeded fixing a bagel for himself.. omg, what's wrong with this man?!?!?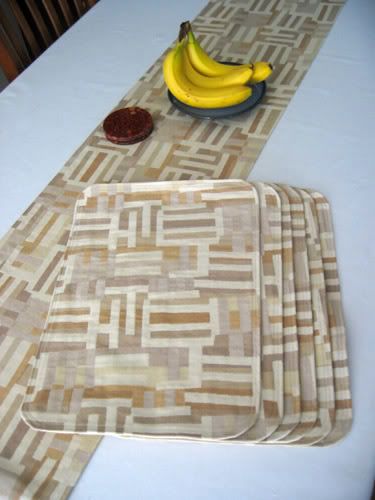 The placemats still need their final pressing, but overall I'm pretty satisfied with the whole set. Everything looks good and presentable. :)
Create Fake Magazine Covers with your own picture at MagMyPic.com
Subscribe to Maxim Magazine at a 75% discount!
LOL! I found this amusing. The subscription link is real, too. (Sean: "Of course. There's no such thing as free lunch.")
Unfortunately, they didn't sell notebooks. That's OK. I just browsed around and checked out what they have. So I started meandering around from the history section, to non-fiction, to art, to cooking. Then, lo and behold... There it was, sitting on the shelf,
Cradle of Flavor
, the book I mentioned here yesterday!
GAAAAAAASP!!!!!
OMG! There was just one copy, hard cover, no stain or smudge, practically undamaged except for a tiny dent somewhere on the piece of glossy paper that envelopes the covers. And it was in a used book store.
SQUEEEEEEEEEEEEAAAL!!!!!!! :D :D :D
O man, I can't believe my luck! And I've only found out about this book yesterday from a radio show. They were interviewing the author, and you can tell the book's gonna be good cus he is so immersed into the culture, particularly the food. At one point, he described how to make
rendang
in such a way that even I who was just listening could taste and feel its texture so vividly in my mouth. (OK, maybe I'm exaggerating. Memory did help, and it's pretty easy to remember
rendang
. Feasting it is like having orgasms in your mouth. Mmmmmm... )
Anyway, what I love, love, love about this book is that the recipes are designed to accomodate Western kitchen without losing their authenticity. It also tells you, among other things, where to look for hard to find ingredients, which to substitute or ommit if they're not available. It's excatly what I need right now. It's also nice to read the stories and details that he slips in before each recipe. Between that and the hefty chunk of the book dedicated to describing every single basic ingredients and spices commonly used in the region, this book is a treasure. And getting it in an (almost!) mint condition at half of the retail price is such a sweet, sweet deal.
Purrrrr...
I needed a notebook or some sort to write down scattered recipes, so I went to the nearby used bookstore. I knew it's a long shot, since who sells used note books anyway, right? But who knows. Besides, it was a good day and I wanted to go out even if it's just around the neighborhood.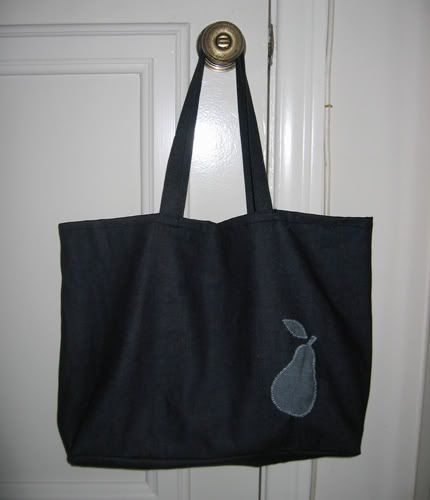 Note to self:
Fabric: 10 oz. indigo denim.
Bag's dimension: 14"×12"×5" (2 pieces of 19"×12", 1 piece of 14"×5")
Handles: ± 1" in width and 1 yard (or whichever the length of the left over fabric).
½" extra fabric on every side.
All machine sewn except for the appliqué, which was the reverse side of the same fabric and hand sewn onto the bag with blanket stitch.
All double stitched except for the folding reinforcement on the sides of the handles.
Carries a gallon of milk just fine.
Sean's currently trying to set up interviews with the makers at Hydraulx to put on his
gaming blog
. I bet it'll be very technical.
So why did you decide to use Maya for this one?
What? Huh? What?
I have to admit.. I find the new WoW Toyota commercial really, really amusing cus that's how they really talk in online multiplayer games (cept there's no cussing here. ;)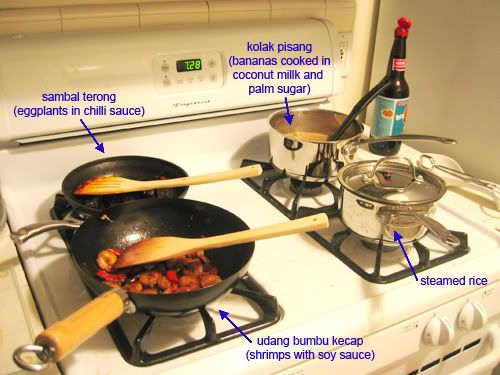 ...to this,
sans the kolak.
I really enjoyed cooking this evening, especially the part where Sean got panic, opened all windows, then ran into the bedroom cus of the 'stench' of the chillies. :P
From this...
him 11:04 pm - Omg its packed
me 11:05 pm - How long is the line? I thought nobody knows there's a game stop in santa monica place
him 11:06 pm - Its at another local gamestop- Lincoln and pico. I think all the santa monica and west la stores funneled their preorders into this stores.
him 11:08 pm - At least 60 people...
him 11:08 pm - Maybe 100
him 11:11 pm -
(
Emailed you a photo
Collapse
)
But turned out nobody actually knew there's a Game Stop in Santa Monica Place. Sean said when the store's finally open, an employee came out and announced that the people who ordered their Halo 3 from SMP should form a separate line. And so all ten of them rushed to make a new line. LOL! Man, no wonder he's home so early.
Luckily I finished this one level on Eternal Sonata (rented from GameFly.com) and was juuuust saving my game when he came back. Then he went, "Can I? Can I? Can I..." And he's been on the Xbox ever since.
Anyway, sleepy time..
EDIT: For a more than three line run down of the event, go to
his blog
.
SMS ping-pong: